Winter Weddings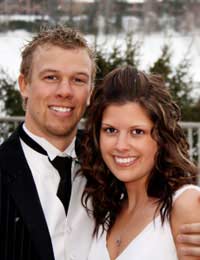 If you're looking for a wedding with a difference, there are a plethora of different options available now, whether you want to marry in the UK and have an old fashioned Christmas themed wedding ceremony – or if you prefer to travel further afield and get hitched with a wonderful mountain backdrop to your wedding pictures.
Weddings in the winter can be incredibly romantic, with the bride dressed like some sort of snow princess, and options for winter sleigh rides and hot toddies by a roaring fire...and if you opt to have the wedding in the UK, it could even save you money. The wedding season is generally considered to be spring and summer, so most venues are looking to fill their rooms over the winter period and more willing to negotiate a good deal for couples wanting to book a wedding at that time of the year.
If you get hitched close to Christmas, you could even save money on the venue decorations too, as most churches, wedding venues and nice hotels will have made the effort and decorated the place ready for Christmas visitors, so they will look great for a wedding too.
Wedding Venues in Other Countries
The classic places for weddings abroad often seem to be hot, such as the Seychelles or St Lucia...but if you aren't a fan of the hot weather, it can be just as nice to plan a wedding and of course the honeymoon in a colder climate and take advantage of some of the stunning snow-covered scenery that provides. Choose from romantic castle venues, or opt for stunning lakes and mountains.
An obvious place to start is Europe, where there are plenty of travel companies that offer wedding packages in Austria and the Alps. One thing to take into consideration is that only civil ceremonies are legally recognised in Austria, although you can have a separate religious ceremony in addition if you prefer. The ceremony also has to be conducted in German by law.
Another option for a longer haul wedding and honeymoon venue is North America and Canada. It's possible to organise and entire wedding and honeymoon direct with a stylish mountain hotel, and the bigger resort venues all have wedding planners and event organisers that you can liaise with to make sure that every detail is catered for. The upside of marrying in America and Canada is of course that there are no language barriers, which can organising things a lot simpler.
Insuring Your Winter Wedding Abroad
If you are having your wedding abroad, don't rely on basic wedding insurance. You need to make sure that all eventualities are accounted for, so make sure any policy you take out covers you for travel delays and cancellations, as well as protection for your essential and legal documents.
Most companies offer a choice of levels of cover for weddings abroad, and obviously the higher the level of cover you pay for, the more money each individual item (such as your dress) or event is insured for. If you just took out basic cover and had to cancel the wedding for any reason, you would get less back from the insurer in cancellation costs than if you had taken out a higher level of cover. Because a wedding is a one-off, special occasion, it's best to over rather than under insure yourself.
You might also like...