Hotels With a Difference: Ice Hotels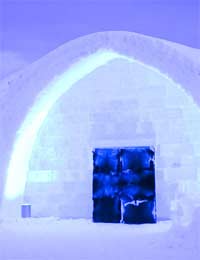 Ice hotels first came to light back in 1989 when a Swede by the name of Yngve Bergqvist decided to build an igloo in Swedish Lapland on the banks of the frozen Torne River in which to showcase indigenous Sami art and artefacts. Tourists would ask him if they could sleep in the igloo to enable them to gain the full experience of Sami culture and it was this that ultimately led him to create what's still one of the most famous ice hotels in the world at Jukka, 140 miles north of the Arctic Circle which began this interesting trend in unique winter destination holidays.
What Exactly is an 'Ice Hotel'?
Ice hotels are basically extravagant oversized igloos built on a grand scale. They are entirely made up of snow and blocks of ice which have been sculpted and are now classed as 'destination' hotels aimed at people who want to stay in interesting and unusual environments. Walls, ceilings and floors alongside fixtures and fittings, including the likes of furniture and sculptures are entirely constructed of ice and held together by a substance known as 'snice' which basically replaces the mortar used in traditional brick construction buildings.
Although temperatures can fall to as low as 17 to 23 degrees Fahrenheit (-5 to -8 Celsius), you're kept snug by sleeping in a mummy bag and you can still have food and drinks served. And, with colourful lighting being used to transform what is a basic ice structure into a fairytale snow castle, they create such a magical appeal to visitors that they soon forget all about the cold as it's their uniqueness and beauty of the surroundings that make it all worthwhile.
Popular Destinations
The Scandinavian countries with their close proximity to the Arctic Circle, Lapland and the folklore surrounding Father Christmas make them the most popular ice hotel destinations in winter yet they can also be found in Quebec, Alaska and parts of Romania too. Here is a brief overview of some of the most popular ice hotels.
Sweden
As it was the first ice hotel to be built, the Icehotel in Jukka (mentioned above) is still one of the most popular winter ice hotels. It's certainly the biggest ice hotel to date and, though not the cheapest, its setting on the banks of the Torne River and the various excursions it provides you with, makes it the best for winter activities such as snowmobiling and dog sledding. The range of accommodation is more extensive than other ice hotels with the cheapest option being a regular double room where you sleep on a bed made of compacted snow and ice, snuggled inside a sleeping bag with a reindeer skin to cover you.
Finland
At 155 miles north of the Arctic Circle at Kakslauttanen, the experience here is a lot more personal with there being just 20 igloos on site, each of which can accommodate up to 5 people. Guests are provided with thermal sleeping bags and woollen bed socks and it's a great place from which to view the Northern Lights as well as going on a reindeer, snowmobile or husky 'safari'.
Norway (Lapland)
As well as the Father Christmas connection, if you really want to get away from it all, a stay at the Alta Igloo Hotel is located on North Cape right on the shores of the Arctic Ocean. It's now only accessible via officially organised travel tours as the final stretch of road leading to it has to be cleared by snowplough. It's basically a smaller version of the Icehotel at Jukka but also comes with its very own ice chapel.
Another igloo style snow hotel is located in an even more remote location at Kirkenes which, because it is so close to the Russian border, you can travel the short journey to Murmansk by bus to see the Russian bears. Costs here include dinner, breakfast and a welcoming sauna. Don't forget to arrange your Russian visa though before you travel.
You might also like...