Winter Breaks for Singles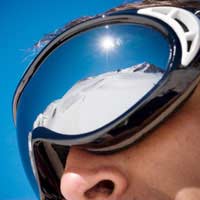 It can seem like hard work finding a holiday or winter break when you're single. Most winter sports beaks seem to be tailored towards family groups, and some holiday tour operators charge a lot of money for single supplements, even in this day and age when the number of singles wanting to go on holiday is higher than ever!
Winter Activity Holidays for the Single Traveller
If your idea of a good winter break involves a lot of winter sports, and snow covered slopes, there are holiday companies that cater to singles with a sense of adventure – singles holidays thankfully aren't all about sun, sea and sangria!
Some companies run singles holidays in the mountains that take in the scenery as well as allow you to take part in various winter sports and activities such as skiing and snowboarding, where you join a bigger group of like-minded singles and take part in as many winter activities as you like. These winter holidays usually guarantee no single supplement, and work out a lot cheaper than going on a standard holiday and having to pay for the privilege of not having anyone else in the room with you!
The only problem with this type of holiday could be the availability, as most tour operators who offer them seem to have a restricted amount of dates dedicated to singles. It's best to book early – and hope that you don't meet someone in the meantime...
Other Types of Winter Break for Single Travellers
Singles holidays can be a great way to get away from the family and couples aspects of winter, especially Christmas. If you're single and just want to get away from the whole Christmas overkill, there are options for great winter breaks for you too.
If you're an animal lover, you could try a polar bear spotting adventure tour, or take in the Canadian Rockies and Vancouver on a leisurely tour. These holidays are expensive, but would certainly beat a rainy November/December in the UK...and get you away from the pre-Christmas rush, too.
How about flying to New Zealand for Christmas and New Year instead of spending it watching awful Christmas television programmes and repeats, and eating mince pies? There are tours like this available just for single travellers, so never let it be said that singles holidays have to be sad affairs or just about spending two weeks on a beach, or getting drunk.
If it's pampering you need, a spa break is the perfect singles holiday, and you'll find that spas tend to be slightly less busy at Christmas, and the lead up to Christmas. For this reason, you might find that you can get a really good deal in November or December, and winter is of course one of the best times of year to treat yourself to a relaxing break and spoil yourself anyway!
There are plenty of singles holiday tour companies on the Internet, or you could pay your local travel agent a visit and see if you can bag a last minute deal on the high street.
Singles holidays have come on a long way since it was seen as a bit strange to go on holiday alone, so you can book your winter break safe in the knowledge that you'll be well looked after and meet lots of likeminded, single people while you're away.
You might also like...