Cultural Events in Europe in Winter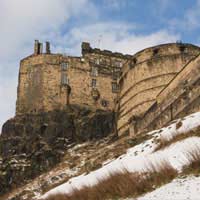 It would be almost impossible to compile a complete list of all the cultural events that take place in winter across Europe. Something to do with the general climate seems to bring out the desire in most northern Europeans to have a bit of a party, dress up and enjoy themselves. Witness the Edinburgh Hogmanay celebrations or the spectacle of the fireworks in London for good examples of the British party atmosphere! However, if you want to head a little further afield, other European cities host a variety of unusual and fun events that give an insight into their own diverse cultures and traditions.
The International Fair of the Masquerade Games Pernik, Bulgaria
The International Festival of Masquerade Games – also known as 'Surva', is a Bulgarian cultural event held every other January in the town of Pernik, near Sofia, in Bulgaria. It's considered to be one of the most important cultural events in Bulgaria.
Thousands of performers from all across Bulgaria take part in the festivities, and it's a truly international event with people from Ireland, Slovenia, Macedonia, Latvia and Poland also taking part. There's dancing and re-enactments of traditional masquerades which go back to pagan times. In Bulgarian folklore, masks are said to protect against evil, which is probably why some of the masks the performers wear are quite frightening!
The Köln Karneval, Cologne, Germany
Germany is well known for holding several interesting cultural events and the winter months lend themselves to festivals and beer drinking as well as the Koln Karneval which begins on the 11th day of the 11th month at 11:11 and carries on right through until Shrove Tuesday.
The Carnival goes quiet during Advent and Christmas but then picks up in earnest after new year, when the Karneval is officially declared open at the Alter Markt on the Thursday before the beginning of Lent. A week-long street festival follows, starting on 'Fat Thursday' and ending on Ash Wednesday. The highlight of the whole week takes place on Rose Monday - two days before Ash Wednesday. During the festival it's not uncommon to see people wearing masks and greeting each other with the traditional "Kölle Alaaf!" or "Cologne alive!"
Kiruna Snow Festival, Kiruna, Sweden
The Kiruna Snow festival is the largest winter Carnival in northern Europe, a Swedish cultural event which takes place across five days at the end of January every year. It's the Swede's annual celebration of winter and is often illuminated by sightings of the elusive Northern Lights that brighten up the sky. Daylight only lasts a few hours in this part of Northern Sweden so it certainly needs illuminating! . Participating teams create amazing ice sculptures, while the 'Winterland' in the centre of Kiruna serves up bear steak and reindeer kebab. There's also dog sledging, reindeer and skidoo races. A 'Mr Snowman' strong man competition is held to select the strongest man of the year and massive 'igloo parties' take place.
Lyon Festival of Lights , Lyon, France.
This charming French festival takes place on December 8 every year and is a festival honouring the Virgin Mary which dates back 150 years. The Festival of Lights started in 1852 when a statue of the Virgin Mary was to be inaugurated – but was postponed several times. Eventually, despite a ferocious storm, the townspeople decided that enough was enough, decorated their homes with candles, and went into the streets of Lyon to celebrate anyway. These days, the festival lasts for four days and involves fireworks and spectacular light shows that draw tourists from many countries.
ChocolART Festival in Tübingen, Germany
This chocolate-themed cultural event takes place at the end of November/ beginning of December and is a definite must-see for anyone with a sweet tooth.Tthe largest chocolate festival in Germany, it takes place in the south western town of Tübingen and chocalatiers from all over the world take part, using the events as an opportunity to showcase their creations. There's an open air market offering a feast of chocolate inspired delicacies from around the globe, and the town puts on fun chocolate-themed events such as chocolate-making classes, chocolate-based massages, plenty of tasting sessions, and chocolate themed art exhibitions.
Carival of Venice, Venice, Italy
The Venice Carnevale is one of the best known mardi gras celebrations in Italy, if not the world. The Carnival, which dates back to the 15th century, lasts for weeks and comes to a climax on Shrove Tuesday. During this time, Venice is filled with people wearing elaborate masks (for which the city is famous) and costumes, and it's one of the best times of year to plan a trip to Venice, as hotels hold elaborate masked balls and there's cultural events, diverse entertainment and parties going on everywhere.
Dia del Reyes or Christmas, Lanzarote
The Spanish like to enjoy two Christmas celebrations, which means that the sunshine isn't the only reason to go there in winter! Christmas Day is a day of celebration but Epiphany, which is on 5 January, is when the children get their Christmas presents, and the carnivals start.There are Epiphany processions featuring three kings on camels giving out sweets, and the day marks the beginning of a few weeks of revelry with parties and events all over the island.
You might also like...