Alternatives to Ski Holidays: Spa Holidays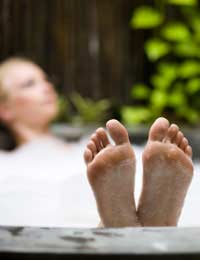 If the idea of skiing or boarding doesn't really appeal to you, but the idea of kicking back in a cosy hotel while looking out over a snowy landscape does get your juices flowing, you might benefit from a spa holiday in a ski resort.
One of the great things about most winter holidays is that the best resorts have a mixture of different accommodation and facilities, so if you're an unashamed lover of luxury, you could book into one of the big chain hotels and make the most of the spa facilities there. Some of them even offer day passes to non-residents, so you could stay in a less expensive hotel but spoil yourself just for a day.
Winter in the Rockies – Banff, Canada
You could have a look at the plethora of upmarket hotels in Banff, if you don't want to go there for a skiing trip or sports holiday. Most of the big name hotels have amazing spas attached to them, which you can use as part of your stay, or even on a daily basis if you're not a resident.Also famous is the Banff Upper Hot Springs Pool which is a must if you're going to spend part of those cold winter months in the Rockies. The heritage bath house has a naturally heated mineral pool, spa facilities, restaurants and shops as well as view to die for over the mountains.
Icelandic Spa Experiences
If experiencing the sumptuous spa experience in the frankly bizarre backdrop of an Icelandic setting is to your taste, there are plenty of spas and also many tour operators who offer trips to the best that Iceland can offer.
The Blue Lagoon spa in Grindavik, Iceland, is one of the better known Icelandic retreats – boasting a geothermal seawater pool, with silica mud and even a waterfall. The spa, which is surrounded by a lava field, produces its very own range of skincare and beauty products based on the minerals, silica and algae found in the waters, and offers deliciously pampering spa treatments to invigorate.
Cosmopolitan Rekjavik also boasts beautiful natural spas – it's considered to be one the foremost spa cities in Europe and likes to live up the this reputation by providing a selection of spa facilities that will please the most discerning of travellers.
There are spa packages available that take in the Blue Lagoon and Rekjavik's finest, Northern Lights tours and forays into the centre of Rekjavik. Ideal for the spa lover who wants something a little bit different.
The French Pyrenees
If France is more your thing, you could travel to Barege and make the most of the thermal spa – the highest thermal baths in France are situated here at 1250m.
The spa at Bareges has been recommended as a tonic for anyone suffering from aches and pains for many years, and you can stay in a 300 year old farmhouse in this delightful mountain village while you 'take the waters' and feel the benefit of all that sodic thermal water.
You might also like...