Winter Breaks for OAPs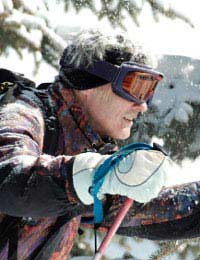 Just because you're older, shouldn't mean that you can't enjoy great holidays. There are travel companies specifically catering for older travellers, which cover everything from coach trips and hotel rooms, to specific trips for single older people – and Christmas getaways designed to appeal to the more mature, discerning traveller.
The advantage of taking a winter holiday through a specially tailored older travellers tour operator is that you'll know that the holiday is very unlikely to be ruined by screaming children, or unruly teenagers. The downside is that it can be more expensive – you'll pay more for the privilege of spending the trip with people of your own age.
Winter Sports Breaks and Older Travellers
It's possible, with a little searching through the Internet, not only to find ski holidays for physically active over older travellers, but also winter ski and sport breaks that suit older people – with no single supplement. You have to do some research to find them, and it might be quicker to find a suitable tour through a travel agent if you don't have the time or patience yourself...but it is possible.
Skiing in particular is a hit with older travellers, it's certainly not a sport restricted to the young...just the young at heart. If you can travel to one of the bigger resorts, you're bound to find that you're catered for very well these days.
Recent advances in skiing equipment technology such as such as shorter, shaped skis that make turning easier mean that even if you've never been on a ski lift before in your life, it's never too late to learn.
A study carried out by the American National Ski Areas Association found that in some areas, the age of the average person out skiing across American resorts has risen steadily from 33.2 in 1997/98 to 36.6 in 2006/07, and the number of skiers over the age of 55 has risen steadily in the last ten years. So there's no need to worry about feeling too old to get out there are enjoy the pistes.
The Importance of Being Well Insured
It's important to make sure that you have the appropriate level of cover when you go on a winter break, especially if you're considering skiing or any other winter sports on your travels. Some travel insurance providers make travel insurance difficult or prohibitively expensive to buy when you get to a certain age, especially if you have any kind of medical condition, managed or otherwise.
The good news is that all you need to do is shop around to find enlightened insurers who don't think that being over 55 should be a barrier to travel. Search for specific policies tailored to you, and make sure that they contain the right amount of medical and liability coverage – especially if you want extra cover for sporting activities.
Overall, there are plenty of options for adventurous senior citizens to enjoy a well deserved break in the winter, so get away from it all and have fun in the snow!
You might also like...