Valentine's Travel Ideas for Romantic Breaks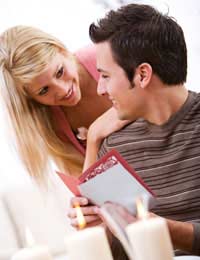 Valentine's Day – two words that can strike fear into the heart of many a lover. What can you do for your special someone on Valentine's Day that hasn't been done a million times before, and won't be over priced, full of other 'romantic couples' or booked up before you get the chance to even think about it?
There are some romantic travel ideas that don't involve massive amounts of available cash, and offer a little bit of romance without the massive price tag or 'been there, done that' sentiment.
Have a Brief Encounter
That's not as cheeky as it seems...although it can be. The film 'Brief Encounter' is one that epitomises romance for many people...all that furtive hand-holding and longing looks set many a female heart a-flutter. Why not make a pilgrimage to the place the film was made, Carnford Station in Leicestershire. You can have your picture taken under the iconic clock at the station which has been sympathetically refurbished to take into account its place in the nation's heart, then head off to the visitor centre for some film memorabilia – complete with a refreshment room built to resemble the original film set.
Visit the Giant of Love
Feeling a bit fruity this Valentine's day? Take a trip down to Dorset and visit the Cerne Abbas Giant, which is said to be just about the sexiest monument in the UK. He's a well known sight in the county's tourist literature , and is simply the outline of a naked, sexually aroused, club-wielding giant, tastefully sculpted into the hillside above the village of Cerne Abbas. Traditionally, the giant attracts both childless couples and those who think they need a bit more pep in their sex lives, and if the weather isn't against it, couples have been known to 'enjoy the view' while enjoying a bit of an encounter!
Book Yourselves into a Castle
This one takes a little more forethought, but if you have a little more cash to splash this Valentine's day and want to invest it in making your loved one smile, why not find an old castle with rooms and book yourselves in for a romantic night of being Kings and queens of the castle/ many old castles are now operating as hotels and they generally like to keep the olde worlde castle atmosphere, so expect tasteful, ornate rooms and a roaring fire or two. Some even host Valentine's day banquets and Medieval nights, where you can dress the part and really enjoy a taste of years gone by.
Get Lost in History...and a Maze.
If staying in a castle is a little over budget, you could always choose to visit one for the day. Warwick Castle has plenty of attractions and the rose garden is incredibly romantic for a Valentine's day walk – or hold hands as you wander through the haunted rooms in the dark. Try Hever castle for a taste of English history – see where Anne Boleyn lived, and wander the mazes, holding hands and hiding from each other. Many castles are the perfect places for romance...all that history seems to be the perfect setting for a romantic Valentine's day out without the price tag of an upmarket hotel.
Brace Yourselves
There's something about the sea that brings out the incurable romantic in many a buttoned-up Brit, so head to the coast and make the most of the crashing waves and negative ions in the air. Walk hand in hand along the beach, breathe in some invigorating fresh air and then head indoors to a cosy Bed and Breakfast to cuddle up in the warm.
You might also like...