Winter Adventure Travel: New Year Adventures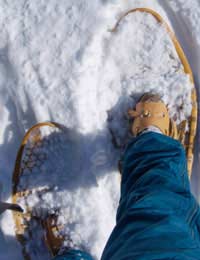 If sitting around by the hotel pool really isn't your idea of fun, and your perfect winter travel plans involve getting out in the cold and really experiencing something different, winter adventure holidays are diverse and offer travellers plenty of excitement!
Whether it's sports, scenery or just something a little different that takes your fancy, there's something new you can try in the cold.
Taking the Dogs Out
Available in the Arctic circle, Sweden, Lapland, Norway and just about anywhere there's a lot of snow! If you fancy a trip out into the remote wilderness of some of the most beautiful, desolate scenery in the world, wrap up warm and choose a husky safari trip.
There are many options open to you if you like the idea of being raced around in the snow attached to a team of lively huskies, the trips vary in duration and you get a choice of accommodation depending on the type of trip, the location and the tour operator. Take your pick from hotels, ice hotels, igloos or 'wilderness cabins'.
The safaris will usually involve taking control of a team of dogs and heading out into the wilderness. It's not for the faint-hearted - you'll probably be expected to feed the dogs yourself, and not with tinned food, you'll often have to chop up frozen meat for them although you'll be given the tools to do it!
Staying in a Wilderness Cabin
The definition of a wilderness cabin depends on the tour operator as some of them have different ideas of what constitutes wilderness! But in general, don't expect too much in the way of facilities. Many don't even have running water and most won't have electricity. They really are for hard-core winter travellers who are hardy enough to deal with low temperatures and the feeling of being completely stranded in the middle of nowhere. These cabins have the benefit of usually being so remote that there's almost no light – giving you a fabulous opportunity to see the Northern Lights.
A Little Bit of Everything
Some tour operators like to mix things up a bit and give intrepid winter travellers a taste of as many different types of winter adventure as they can. Step forward a typical 'adventure package' which could include:
Snowmobile safaris
Husky Safaris
Wilderness Cabins
Arctic Endurance
If you really don't mind the cold and want to try something a bit different, there are arctic adventure holidays (such as Arctic Enduro) which give you the chance to get just about as far north as you can possibly get using huskies and snowmobiles.
Brace yourself for a winter adventure in up to ten days of temperatures in the minus twenties if you want to join a trek like this. Many of them have strict registration requirements and the Arctic treks really aren't for anyone who 'just wants to see the snow' – they are hard going and it's said that they push you to physical and mental limits. On the upside, the sheer exhilaration must make it all worthwhile.
Winter Adventure Holidays For the Very Active
If your idea of a winter adventure involves extreme sports as well as extreme cold, some tour operators offer winter holidays where you can try out a range of different activities, including dog sledding, snow shoeing, building igloos, cross country skiing and ice fishing! There are usually options to pick and choose which sport or activity you want to try, so you won't get bored.
You might also like...