Rent a Cottage for Christmas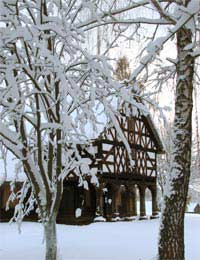 Many people choose to rent cottages at Christmas. There's something quite traditional about taking a Christmas break in a cosy cottage in front of a roaring log fire and there are numerous types to choose from and different kinds of locations. However, it's important that you book early as some cottages can be booked up for Christmas a year, or even more, in advance.
Types Of Cottage
Your choice is virtually unlimited. There are small, cosy hideaways with, perhaps, just one bedroom which might be perfect if there are just two of you and you prefer simple, rustic charm. Yet there are also plenty of 2, 3 and 4 bedroom cottages and some even have more bedrooms than that which are ideal if you are planning a large gathering of family and friends. The range of amenities will also differ significantly. Some people prefer the more traditional cottage experience with just the basics but you can also rent cottages which come with en suite bathrooms and which are equipped with the likes of hot tubs, saunas and other luxury facilities. You can even rent large mansions and castles. In fact, in many circumstances, if you have a large party of guests, it can often work out cheaper to rent a large cottage at Christmas.
Locations
Search for 'holiday cottage rentals' on the web and you'll see that there are cottages for rent in virtually the whole of the UK. However, the most popular and desired cottages tend to be close to places like the Lake District and other National Parks where people can enjoy getting out and about to do some walking and enjoy the countryside. After your walk, you can enjoy the hospitality of a traditional English pub and then return to the cottage and curl up in front of a welcoming log fire. Scotland and Wales are also popular locations.
Cottages by the sea are also in high demand around Christmas with the likes of the Norfolk coast, Cornwall and Devon the most popular for a Christmas break. Some of these cottages are so close to the shoreline that you can see and smell the sea and enjoy the sounds of the waves crashing against the rocks.
The beaches themselves are often almost deserted this time of year which makes for tranquil strolls along the beach or seafront. And, because the British coastline is so varied, you can take your pick from cottages close to meandering sand dunes or rugged cliffs.
Cottages in villages are also popular. Many people enjoy being part of a wider community at Christmas time and also prefer to be close to shops and pubs etc. The same can be said for towns and cities with historical places such as Chester, Stratford upon Avon, Oxford, Chester and Winchester being extremely popular for a Christmas holiday cottage break.
The English Tourist Board
Whilst there are many websites which cater for holiday cottage rentals, people who want to be assured of quality and standards will choose to rent a cottage which has been graded by the English Tourist Board. Every cottage which has been accepted under the scheme will have been visited by a tourist board inspector and graded between 1 star and 5 stars – the latter obviously reflecting the most luxurious cottages. That way, you haven't got to take the owners' word for quality as these cottages will have been graded independently.
Pets And Disabled Access
If you are disabled or have pets, it's important that you make a few thorough checks. Many cottages will have disabled access yet you may find that once inside the cottage, it is not as equipped and adapted as you may need so be sure to ask questions. Likewise if you intend taking pets with you. There are many cottages that will allow this but some owners may be more relaxed about pets than others and there may be certain ground rules such as allowing your pets upstairs, for example.
Renting a cottage at Christmas is something that is becoming increasingly popular year upon year and it is a great way to capture the spirit of Christmas.
You might also like...
The problem with spending Christmas in a cottage is that it's very expensive. Only high summer (along with other school holidays) is going to be more expensive, as they increase prices to take advantage of increase demand. That's perfectly understandable, and simple economics. It does mean you should think twice before booking, though, and, if all you want is a quiet week in the country, go when prices are lower.
Chris
- 27-Sep-12 @ 1:35 PM