Christmas on the Beach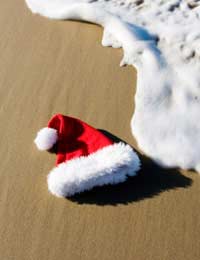 For those of who live in the UK and have always stayed at home at Christmas, it's hard to imagine what a typical Christmas holiday spent on the beach might be like. However, even in a hot and sunny climate, some of the great traditions still live on. People will still exchange gifts and cards and decorate their homes with a traditional Christmas tree all with a winter wonderland theme at the core. But to actually spend Christmas Day on a sun-kissed beach is a unique experience, especially if it's something you've never done before.
Christmas Dinner
Christmas dinner on the beach can be anything you want it to be but it will likely involve a barbecue. Many people still hold true to the traditional Christmas fayre of roast turkey with all the trimmings except that in the hot sun, you're more likely to cook the turkey the day before and eat it cold with perhaps a salad replacing the trimmings. Seafood such as shrimp being grilled on a barbecue is also popular as an accompaniment. And the beers and other drinks will flow as normal – that aspect of Christmas for many doesn't change whether you're on a beach or at home.
Fun and Games
Back in the UK, once dinner is over, the celebrations tend to consist of the family all sitting down to watch the Queen deliver her Christmas message and, perhaps engaging in a family game of charades – if you haven't dozed off in the armchair, that is. However, on the beach, you might find yourself battling it out with other families with a game of beach volleyball or beach cricket. Perhaps you'll choose to go paragliding, surfing or jet boating.
Alternatives to Hotels
Whilst many people will choose to stay in a hotel or an apartment close to the beach, those who want to experience a real beach Christmas might choose to rent a beach house or may even choose to pitch a tent on the beach if it's permitted. Whether it's soaking up the sun, reading a book or splashing about in the ocean, Christmas Day at the beach will seem a lot more fun as you'll be sharing the space with not only your own immediate family but with other families too who are all enjoying the festive spirit so it's a chance to make new friends also.
The Christmas edict of 'peace and goodwill to all men' really does take on an extra special meaning then. And, instead of having the snow, you can still keep the spirit of Christmas alive by joining your children and building a sandman. A sandman? Yes, the beach equivalent of a snowman which you can still dress up in the traditional way with a bobble hat, scarf and carrot for a nose.
Other Activities
Christmas on the beach can be as active or as relaxing as you want it to be. Many people choose to build up their appetite for Christmas lunch by doing a spot of snorkelling, diving or fishing for the shrimp that will be thrown onto the barbecue later. Others may get involved in beach sports whilst for those who want to take it a bit easier, perhaps a beautiful stroll along the sand at sunset is more your thing.
Ultimately, Christmas spent at the beach is whatever you want to make it. Places such as the Caribbean and the likes of Australia and New Zealand are famous for their Christmas on the beach holiday celebrations and, whether it's the sound of a didgeridoo or a steel band beating out the rhythms to put you in the party mood, there will still be time to fit in a bit of carol singing – perhaps, reggae style. Of course, you don't need to travel this far to enjoy Christmas on the beach in the hot sunshine. The Canary Islands boast good weather at this time of year and they're an ideal place if you want to combine a traditional Christmas dinner with all the trimmings cooked for you at a restaurant with fun and games on the beach later.
Whatever you choose, you'll find that Christmas at the beach is an experience that will fill you with joy – one that will be far different than anything you've experienced in the confines of your own home on a gloomy winter's day in the UK.
You might also like...