How to Avoid Travel Chaos at Christmas Time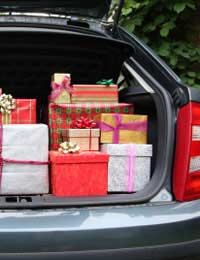 It doesn't matter whether you're travelling by road, rail or by air, there will always be something that makes that Christmas journey to friends or relatives a little bit stressful. Planning ahead can help to make the journey a little less of an ordeal, that and thinking about the welcome you'll get on your arrival.
Travelling by Road
The roads are generally chaotic as the Christmas travel season approaches. Of course, the busiest days tend to change depending on the day of the week that Christmas falls. If you want an easy journey, leaving it until after 3pm on the Friday before Christmas Day is never going to work. The roads are always full with people who decided to do that, and invariably they are a lot later reaching their destination than people who were a bit wiser and decided to plan ahead.
Always listen out for the weather forecasts before you set off. If there's bad weather forecast for the date you're due to travel, either make allowances by setting off that little bit earlier or change your day. What's worse, arriving a day later after a reasonable journey or spending a whole day stuck in atrocious traffic with bawling, bored, fighting kids and no services for miles? A word about services too – most sat nav systems have a feature that lets you see where the nearest services, toilets and other useful stopping points are on your journey. It pays to do your homework before you leave and build in a few refreshment stops if your journey is long. Pack food, drinks, some blankets (just in case unexpected bad weather catches you out) and something for the children to do. Plan for the worst and then at least you know you'll be OK if bad luck strikes and you end up nose to bumper and going nowhere for hours on end.
Travelling by Rail
The only way to do this at Christmas is book your tickets well in advance. Not only does this save you loads of money, but at Christmas, the world and his dog will be taking up space on the trains, and if you don't book in advance you could end up paying well over the odds to stand up all the way to your destination. As it gets closer to Christmas, the trains will be heaving with travellers, and their luggage. If you book a ticket online, you'll be allocated a reserved seat, which is especially welcome if you're travelling as a family, as you can all sit together.
Try to take as little luggage as you can feasibly manage, because everyone will be hauling around carrier bags full of gifts and there's limited space for extras on most trains. You may end up sitting with your bags on goodies on your lap if there's no room for bags anywhere. Not to mention the coats and scarves that inevitably take up more room on a winter journey.
There's an added problem with cancellations due to bad weather at Christmas time, so keep an eye on the situation by checking nationalrail.co.uk where you'll find details of engineering work, and up to date live arrivals and departures. You can also sign up for a service that will text you details of your intended journey, along with any delays or disruptions. If you're going to be stuck on the dreaded rail replacement coach for hours on end, it's always best to prepare yourself in advance!
Remember that Christmas Eve train services finish earlier than usual too – you don't want to be stranded!
Air Travel Tips
The departure lounges at most UK airports are busy places to be around Christmas, and that's without factoring in cancellations, delays and strikes. Once you've got the tickets booked, all you can really do is hope for the best, although you can save time when you're there by leaving the gift wrapping until you get to your destination so that you don't encounter a security officer with no Christmas spirit wanting to undo all your beautifully wrapped gifts just in case one of them could be a security risk!
Do all you can before you leave to avoid Christmas travel delays – travel on less popular days, keep an eye on the weather conditions and factor in bad weather to your journey to the airport. Check in online if your airline allows this, and weigh your baggage before you leave the house to avoid excess baggage costs which always hold everybody up. Don't even try to haggle at the check in desk over baggage – it will only hold you and the rest of the queue up, and they won't usually back down.
Check the rules about alcohol – some airports will confiscate alcohol even if you buy it once you get past duty free at your departing airport. This can be a particular problem in connecting flights, so the general rule of thumb is that you should buy any alcohol at the last departing airport and not the first. So if you leave from Heathrow, change at Singapore and fly on to Australia, leave the duty free booze until Singapore. Nobody knows what they do with the confiscated booze but the stories of security taking it away from people on arrival are too numerous to ignore. Don't get caught out!
You might also like...