Visit Father Christmas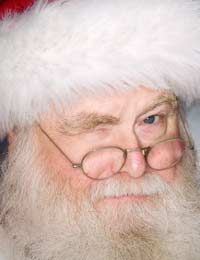 Most people will take their children to see Father Christmas each year at one of the many grottos which you'll find in shops all over the High Street. However, many children these days know that Father Christmas actually lives in Lapland so if you truly want to see your child's face light up, how about taking them on a trip to see him there?
There are many different types of trips you can go on to see Father Christmas. Most of them tend to be around 2 to 5 days in length and run from around the end of November and continue up to and even over the Christmas period.
Where Exactly is Lapland?
Lapland isn't exactly a country in its own right. It actually refers to a region of northern Europe which spans northern Norway and parts of Sweden, Finland and Russia although, geographically speaking, most of it lies within the Arctic Circle. It's often referred to as the 'last great wilderness of Western Europe' and features spectacular scenery with open plateaux, high mountains, waterfalls, rivers and forests which makes it an outstanding destination to visit if you enjoy natural wilderness.
It is home to the Sami people who are the indigenous people of northern Scandinavia and there are about 7000 Sami living in Lapland. And, of course….it's also 'home' to Father Christmas!
A Short Break to See Father Christmas
Some companies literally run day trips whereby you and your children can fly from a range of airports in the UK and once on board, the kids will be given colouring books and crayons with which to draw pictures and there will be many Christmas carols and Santa themed songs to join along with.
The flights tend to be around 3 hours approximately, depending upon which airport in the UK you're flying from and you might only be in Lapland for a couple of hours – just long enough to meet Father Christmas and his little helpers in person. Depending upon the type of Christmas trip you choose, it might be a group meeting but some day trips also cater for private family meetings where Father Christmas will greet your children personally and where he'll also present your child with a personal gift.
Longer Breaks in Lapland
For those of you who want to experience a bit more of Lapland at Christmas time, you can take a holiday where, in addition to meeting Father Christmas, you and your children will be able to participate in some of the wonderful outdoor pursuits which Lapland has to offer. This is likely to include tobogganing in the snow, husky and reindeer sleigh rides and, for the more adventurous, you can take a longer snowmobile ride across the vast expanses of snow. All these outdoor activities cater for people of all ages and of all different levels of excitement and some trips even feature unlimited rides.
A Christmas holiday in Lapland can be anything you want it to be and you're not restricted to one particular country either. With so many different tour companies operating an extensive range of packages, there will be one to suit you and your children whatever you have in mind. Whatever type of trip you decide to go on however, you can be certain that it will leave a lasting memory on your children for years to come and probably on you too. Just remember, however, that if you plan on taking part in any outdoor activities that you ensure that you and your party have adequate winter sports insurance coverage.
You might also like...