Your Rights if Something Goes Wrong on a Winter Holiday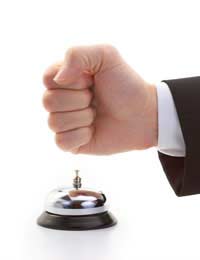 A holiday should be something that is enjoyed, and your consumer rights in the case of winter holidays (or in fact any type of holiday) reflect this. Holidays are one of the only purchases where you can claim compensation for 'loss of enjoyment' if something goes wrong while you're supposed to be having fun on your long awaited winter holiday.
What are My Basic Consumer Rights on a Winter Holiday?
Firstly, the Sale and Supply of Goods Act dictates that anything you purchase should be 'fit for any purpose that is made known to the seller at the time of purchase'. This, in effect, means that when you're buying your winter holiday and stipulate that you want a challenging ski experience, you shouldn't find yourself surrounded by ski virgins trying to negotiate the nursery slopes.
Conversely, if you make it clear that you haven't been on a winter sports holiday before but would like to give snowboarding or ski slopes a try, and you then find yourself somewhere that offers no tuition whatsoever, you have grounds for compensation.
Your holiday must be of satisfactory quality - again this is covered by the Sale and Supply of Goods Act. It should fit any description that's been made of it, and this includes the obvious things like the resort - is it suitable for families, or does it cater for more adventurous travellers.
If you've been misled, it's a breach of contract under consumer rights law, and could also lead to action under the Trade Descriptions Act which is criminal legislation. Always read the small print and any descriptions carefully before booking a winter holiday, and also check your travel insurance policy because if it's mis-sold and you lose out financially you could have a claim under consumer law.
The Package Travel Regulations 1992
If you buy your winter holiday as a package, that is you buy the accommodation and the means of travel together from the same supplier, you have certain rights should something go wrong. For example, if you get to your idyllic lodge and find out that the heating doesn't work, you should tell the representative straight away, because the tour operator has a duty to make sure the contract that you entered into to buy the winter holiday is not breached.
If you complain, the tour operator or his local representative must make every effort to solve your problems, mend your heating or relocate you to an appropriate property. If they don't they are in breach of contract and again, you can claim compensation.
The Package Travel Regulations are like a consumer insurance against being short changed on holidays.
What if the Tour Operator Tries to Change My Winter Holiday Before I go?
Tour operators can no longer ride roughshod over your plans, cancel or change your holiday or make changes to the cost...without breaching the Package Travel Regulations. If there is a material change to your winter holiday you can either choose to accept the change or cancel the holiday and both should be at no cost to yourself.
If your hotel is over booked and the only option available to the tour operator is to give you accommodation of a higher standard, you shouldn't have to pay for it. And if the changes involve longer transfers, again, you should not have to pay for them.
What Can I do if the Price Changes?
The agent or operator can include a clause in their contract giving them the right to increase the price of the holiday and demand more money from you, but this has to be specified in the contract and so if you see it, the decision is yours as to whether you want to take that risk. If there is no clause, they cannot increase the price, no matter what the reason.
Even if there is such a clause, only certain costs are allowed to be passed on to the person booking the winter holiday. For example, if fuel prices rocket, you might find that your holiday costs follow suit. Other fees that can potentially be added include landing taxes, embarkation fees and exchange rates. In any case, the Regulations also say that the organiser has to stump up for the first two percent of any increase.
The consumer rights which apply to holidays are broadly the same as the rights you get when you buy any other product – but the Package Travel Regulations mean that you have an extra layer of consumer protection – and you should quote it with confidence if you think you have been badly treated!
You might also like...