What to Look Out For When Hiring a Snowmobile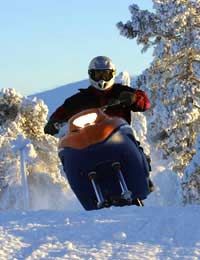 When you go on a winter holiday there are loads of snow related activities that aren't just skiing – and snowmobiling is one that's really popular.
What is a Snowmobile?
A snowmobile, sometimes called a skidoo, is a winter land vehicle which is propelled by rubber tracks, and which has skis for steering. Most snowmobiles are powered by petrol engines. They are designed to run on ice and snow, so they don't need to have roads or tracks to get around on, which makes them perfect for bombing around in remote snowy areas and places you wouldn't be able to visit on foot.
Where Should I Look When Hiring a Snowmobile?
Snowmobiles are easy to find and to hire in any half decent ski resort. They are especially popular in Canada and North America, where there are literally thousands of places you can hire a snowmobile to get around.
A reputable snowmobile rental agency will have strict rules about who can and can't hire one of their vehicles. If you bear in mind that a snowmobile can cost £6000 to replace, it's understandable that they want to make sure the people they lend them to for winter adventures have the ability to drive them, and can cover the cost of any repairs.
Add to that the fact that snowmobiles can travel at up to 70mph on the snow and ice, and you have a recipe for disaster if things go wrong.
Most places will want snowmobile riders to be at least 21 years old, and you'll need a valid UK motorbike or full driving licence. Most places will also ask you for a credit card which they will keep as security and take your deposit from. Some have a contract that they ask you to complete before they let you take a snowmobile out on the snow, or a disclaimer.
What Do I Get When I Hire a Snowmobile?
You'll probably find that the rental agencies you get at most major ski and winter snow resorts will provide all the services you need to acclimatise yourself to the thrill of snowmobiling, including in some cases an experienced guide to escort you and help you find your feet.. You should have the option of hiring all the extra gear you need, including clothes, boots and winter gear and some places will even let you test snowmobiles before you drive them, so that you can get used to the feel of riding one.
Last but not least – it's quite common for a snowmobile rental agency to ask you for your insurance details before they let you anywhere near their vehicles. You'll usually be offered their own insurance too, but if your extreme winter sports policy covers snowmobiling, make sure you take a copy of the policy to prove it, or they may insist you buy theirs anyway.
Most countries have strict safety rules for snowmobile hire and riding – including age restrictions and alcohol bans. If it's your first time and you don't know the area well, it's advisable to pay that little bit extra and ask for as guide to come with you – that way you'll get to see the wild beauty of the area with someone who knows how to make your holiday snowmobile tour that little bit more exciting.
You might also like...