Types of Ski Break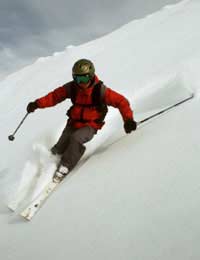 In winter time, many holidaymakers' thoughts turn towards ski holidays and this market has grown significantly over the past decade or so. Where once ski holidays were considered rather exclusive and the domain of the wealthy and well-to-do, there are now a whole range of winter ski deals to choose from.
Today's ski packages cater for a broad range of people and different types of groups from your serious skiers to a more laid back family fun ski holiday which might also incorporate other winter snow sports such as tobogganing and snowboarding. Then there are also ski holidays aimed at young groups which are heavily oriented towards the après-ski as much as the skiing itself.
You can even catch a sun tan whilst skiing too. A winter break skiing will, therefore, mean very different things to different people but there are now many more different types of ski breaks that you can choose from.
Alpine/Downhill Skiing
This form of skiing is still the most traditional and most popular when it comes to a ski holiday. It's where skiers use ski lifts to ascend the slopes and then ski back down them again. Here it's the thrill of the speed and the skill involved in navigating a slalom course that has the most appeal and is popular with singles, couples and as a family ski holiday alike.
It's also a very good type of ski holiday as it caters for those with different levels of ability so that some members of a ski party might go off on more advanced runs whilst beginners can still enjoy themselves as they learn the ropes on the nursery slopes which is why it's very popular as a family ski holiday.
Cross Country Skiing
Cross country skiers don't use ski lifts and actually ski up the mountains although the mountains aren't as high or steep as those found in alpine skiing. It's more about crossing a particular terrain and can be much more aerobically demanding than conventional alpine skiing. You'll also find the more competitive skiers taking part in cross country ski racing.
Freestyle Skiing
Freestyle skiing can be simply explained as 'acrobatics on skis'. It involves performing aerial tricks, group choreographed routines and moguls which are basically bumps that are on the slopes which are skied and jumped over enabling participants to perform various tricks such as spins and twists in the air.
Off-Piste Skiing
Sometimes referred to as 'randonée skiing', this basically involves skiing on untouched snow and it should only be tackled if you're a fairly advanced skier as it can be very dangerous if you don't know what you're doing. It is often off piste skiing where you run more of a risk of being caught up in an avalanche so you need to truly understand the slopes you're skiing on as well as being a very good skier. If off piste skiing is your thing, it's also important to check the resort first as it is prohibited in some places, particularly in certain resorts in the USA whereas it's much more common in Europe.
Telemark Skiing
This basically differentiates the type of boots and skis you use as opposed to those who practise alpine skiing. Telemark boots are flexible, usually made of plastic or leather and are not locked into the ski. People find that this type of skiing is more adapted to crossing rolling terrain whereas alpine skis are more suited to steep downhill runs.
Different Ski Packages
Whatever your preferred discipline, ski holiday specialists will be able to cater for different kinds of packages. You'll be able to choose from hotels and hostels to bed and breakfast and self catering apartments and chalets. Depending on your preferences, you might also wish to stay in a chalet where a member of staff (a chalet representative) comes to cook and clean for you each day. You can choose from a weekend break to a full one or two week holiday and things like lift passes and ski hire can be arranged before you go as part of the package.
It always pays to shop around for ski holidays. Some resorts are more upmarket and cost far more than others. Some are more geared towards families with children whilst others are aimed towards the young groups market with as much emphasis placed on the après-ski. It goes without saying that the Christmas/New Year period and any school holidays will always be the most expensive time to go skiing.
You might also like...