What to Remember When You Go Abroad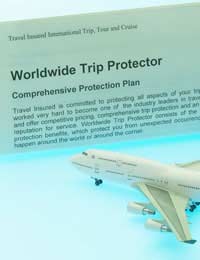 When you're about to go abroad on holiday, you can get caught up in the excitement of your holiday, and forget about some of the important things that you need to be aware of before you go abroad.
Find Out About the Country You're Travelling to
The Internet is a great source of information about travelling abroad and the
Foreign and Commonwealth Office (FCO)
is a reliable and up to date place to find advice about your destination and how to prepare for your visit.
It's also worth getting hold of a good quality travel guide so that you can find out all about your intended holiday destination in advance – when you go abroad you're usually presented with different customs, beliefs, and laws. It's also helpful to learn some basic phrases to impress waiters with!
Your Safety When Travelling Abroad
Trust your instincts and don't take risks with your personal safety that you would never take when you are at home, like walking through town alone late at night. Don't have any valuables such as mobiles, MP3 players or digital cameras on obvious display as they can be a little too tempting to opportunistic thieves. Consider investing in a personal safety alarm, especially if you're travelling alone.
Make sure that your mobile phone works abroad and that you have important numbers stored in it – the local British Consulate and your bank and insurance provider are helpful numbers. Make sure that you also have the relevant documentation in case the phone is lost or stolen.
Photocopy your passport and insurance policy before you go, as well as making sure you've written down the details of all relevant emergency numbers, credit and debit card and travel details. Leave extra copies and your contact details, with a family member or a friend in case of an emergency.
Health and Travel Insurance
If you're travelling abroad within the EU, get an EHIC (European Health Insurance Card) which entitles you to medical treatment at a reduced cost, sometimes even free.
Even if you're only going abroad within the EU – you'll still need travel insurance in case of injury illness abroad. When you're looking for a policy, try to find one with 24 hour emergency assistance, and make sure that the cover includes:
Personal liability cover
Adequate cover for loss and theft of your possessions while abroad
Cover in case you need to cancel or cut short your trip
Extra cover for any activities that are often excluded from standard policies, like winter sports.
Taking Money With You Abroad
You need to think about the type of country you're visiting and plan in advance how you are going to access your money while you're there. Most people like to take a selection of credit and/or debit cards, cash and sometimes also travellers cheques away with them. It's worth noting that most banks and credit card companies will charge a fee for any money you spend or withdraw when you're abroad – some of them charge a percentage and others a flat fee. Find out about this before you go.
Consider taking sterling or US dollars as well as some local currency, as most places will accommodate these if asked nicely!Tell your bank and credit card company that you may be using your cards abroad. It saves the embarrassment of having your card refused at the point of sale due to a credit fraud alert.
A little pre-holiday preparation can go a long way to making your holiday perfect.
You might also like...