The Importance of Eye Protection on a Ski Holiday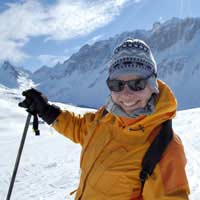 Every sport brings its own requirements for eyewear, including winter sports. Simon Briggs from Extreme-Eyewear, a specialist sports eyewear company, explains what the main issues are when choosing the right eyewear for your sport.
"Sports eyewear requirements can be broken down into two main areas, eyewear fit and eyewear lenses.
"A sports person's eyewear needs to fit securely and comfortably, ensuring optimal performance in any situation. Each sport has its own requirements for sport sunglasses/eyewear. Many sports are played all year round so its important to have a sunglass lens in your sport sunglasses that will cope with a wide variety of sunlight conditions (from low light to heavy sunshine) or to have interchangeable lenses.
"Some sports are played on reflective surfaces such as water or snow where it is beneficial to have polarised lenses in your sport sunglasses to reduce the sun glare.
"Knowing there is not one perfect lens for all sports, manufacturers have come up with interchangeable lens systems; with the majority of products coming as a sunglass package with the frame and a dark sunglass lens with the option of buying more other colours as you want them."
Getting Eyewear in Prescription - the Optical Insert
"The most popular correction comes in the form of an optical insert which is fitted with your prescription. The insert clips onto the back of the sport sunglasses enabling you to still interchange the 'main sunglass' lenses for different colours. As the insert can be removed this concept is also great for contact lens wearers."
"Cosmetically you can often tell there is an insert behind the sunglasses which makes them less than perfect for fashion prescription sunglasses but their functionality makes them idea for sport."
Direct Glaze Lenses
"The second form of correction is 'direct glazed' lenses, where your prescription is fitted into the eyewear frame. Two brands that excel are Oakley and Maui Jim, both manufacturing wrap-around lenses tailored to your prescription.
"If you prefer the idea of having a 'direct glaze; sport sunglass, Its often a good idea to go for a light contrasting lens colour (dark orange/red), enabling you to wear the sunglasses in more varied light conditions, examples below:
Ski Goggles and Prescription Ski Goggles
"Getting your ski goggles right is essential, when skiing or snowboarding a goggle has to be able to deliver good peripheral view, air circulation (to combat fogging), comfort and due to the popularity of helmets now be 'helmet compatible'.
Hybrids
"There are a number of different sunglass and goggle hybrids available. These clever pieces of kit mean that you can buy your sunglasses and goggles at once. You simply buy a pair of sunglasses with sides that can be clicked off of the frame and replaced with a headband for a more secure fit.
"Some of these models include a padding system, which gives a more comfortable fit when worn as a goggle. The padding simply clicks into place on the back of the sunglass, and turns the sunglass into a full goggle."
Prescription Ski Goggles
"The prescription part of the correction is in the form of an optical insert that sits inside the skiing goggle, behind the main lens. The optical insert has no contact with your face making a perfect fit and allowing the goggle to fit as intended by the manufacturer.
Are There Alternative Corrections Available?"An alternative to optical inserts is to purchase 'Over the glass' ski goggles. These goggles are specifically designed to sit over the top of prescription glasses, having increased ventilation and a wide fit enabling your glasses to comfortably sit underneath."
You might also like...