Winter Accommodation: Hotel, Cabin or Lodge?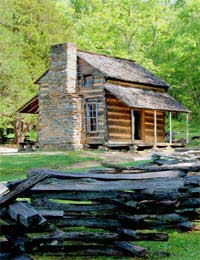 The range and availability of accommodation when you go away on a winter ski trip or snow holiday can be daunting, but the type of accommodation you decide to stay in really depends on the type of person you are, how many people are in your party and your personal preference. The main choices on offer are cabins and chalets, either self catering or catered by chalet staff...or a hotel.
Catered or Self Catering Cabins?
Some people love the informality and friendliness that a catered ski chalet or cabin offers. A catered cabin is exactly what it sounds like, a chalet in a ski resort which is almost like a home from home. You'll get full board and very pampered accommodation, rather like a hotel, and you'll have someone on hand to cook, clean and look after you and your party on a daily basis.
With a catered chalet you'll get the luxury of returning from your day on the slopes to an evening meal, usually six days out of seven, and not having to stress about where to go to buy food. The only issue is that it can be rather expensive compared to a self catering cabin of the same quality, so it all depends on whether you value being spoiled over the freedom to find your own meals!
A self catering cabin for your winter holiday can be idyllic, especially if your party is small, just family or a couple's holiday. The freedom of being able to come and go as you please without having to take into account the fact that there's a meal waiting for you. The downside is being responsible for your own clearing up!
Both catered and self catering cabins are a popular choice with people on winter holidays, mainly due to their flexibility and the fact that they offer luxury (or sometimes more basic, depending on your budget) accommodation, away from the atmosphere of a busy hotel. They are great for regular winter sports travellers, people who know the area and their chosen sport.
Staying in a Hotel on Your Winter Holiday
A hotel is a great choice for your first winter holiday, because if you've never been on a ski or snowboard trip, most hotels will give you a wide variety of options if you want to just try a taster of all the different activities.
Rather than booking a ski or snowboard specific winter holiday, you can try a package through a hotel close to the slopes, or on a well known ski resort, safe in the knowledge that not only will you have a luxurious stay on the slopes, or nearby, but you'll be catered for if you want to get good deals on ski lessons, winter sports equipment like skis, snowboards and clothing, and information from the hotel concierge about the best places to go for different activities.
Most hotels will also be able to organise winter activities like dog sledding, sleigh rides, ice walking and skating if they are available locally, and most can get you a good deal on different activities with local companies.
The choice of accommodation for a winter break is one of the most important decisions you'll make when it comes to your holiday, so research your options, speak to specialist travel agencies and shop around before you make that final choice!
You might also like...