Snowboarding Equipment: What do I need?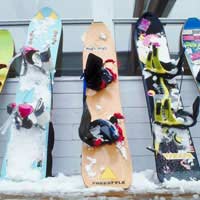 As with most sports, snowboarding requires a certain level of specialised equipment in order for it to be carried out safely and effectively. Requirements fall into two main areas; snowboarding equipment and snowboard clothing.
The three most essential pieces of snowboarding equipment are the snowboard itself, bindings and a good pair of snowboarding boots.
What are the Different Types of Snowboards?
Snowboards mainly fall into two categories; free-ride/freestyle boards and alpine boards.
Alpine snowboards are longer and narrower than free-ride or freestyle boards and are used predominantly for racing.The more conventional snowboards are the free-ride or free-style boards which are wider and more flexible than alpine boards and these are the ones that most beginners will find themselves using. As a general rule the length of the board should be roughly equal to the height of the rider's chin; the taller the rider, the longer the board.
Bindings and Other Snowboard Essentials
Bindings are secured to the board and hold the boarders' boots into place on the snowboard. Traditionally the bindings are a strap ratchet-type, two straps per foot. Other types of bindings are available to buy of hire, but usually the strap binding is supplied when hiring snowboards at most resorts.
Bindings will be set according to the rider's stance. There are two main stances for snowboarding; regular (left foot forwards) and goofy (right foot forwards). To determine which stance a rider should use, riders are asked to imagine themselves running along a polished floor in the socks and then attempting to slide along. The foot that you would normally put forward for sliding is the foot that you would have in front of you as you ride the snowboard.
What Type of Footwear Will I Need?
Snowboarding boots are different to ski boots in that they are of a softer, more flexible construction with laces, as opposed to the ratchet bindings of a ski boot. Snowboarding boots are much more comfortable to wear and more convenient to walk in compared to ski boots.
In addition to the equipment, snowboarding also requires the correct clothing to be worn. With clothing, it is essential to ensure that they are waterproof and warm. Good waterproofing is needed as the clothes will get wet from either falling snow or falling in the snow. Once wet the clothes will magnify the cold from the snow or wind.
Most modern-day snowboarding clothing will ensure that the cold and wet snow will be kept out, allowing the wearer to remain dry and warm. Whilst newer clothing is more lightweight, wearing thicker clothing can also benefit the beginner by allowing them more padding should they fall.
What to Wear on Your Head
As with cycling, it is recommended that whilst snowboarding the rider wears protective equipment. A good reliable helmet is essential to reduce the risk of head injury. Many beginners also wear elbow and knee-pads. When learning to snowboard the rider often spends a lot of time on their knees, either resting or getting into a position to push themselves back upright. Knee-pads can be very effective in these circumstances providing the rider with something more comfortable to kneel on, as the packed snow of the slopes can often be a lot harder than it looks. Other protective equipment the rider may consider wearing is wrist guards and body-armour.
Get the right equipment for your snowboarding holiday and you'll be on the way to having a great time.
You might also like...