What Should I Wear When I Go Skiing or Snowboarding?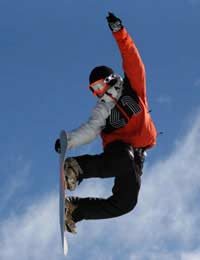 One of the main concerns that people have when considering a skiing or snowboarding holiday is the weather, and just how cold it will be. While some winter sports holidays taken later in the year can be relatively warm and sunny, the high altitudes and cold weather mean that it is important that the correct clothing is worn.
While you're snowboarding or skiing it's essential to ensure that the outer layers are waterproof as the clothes will get wet from either falling snow or falling in the snow. Once wet the clothes will magnify the cold from the snow or wind. Most modern-day snowboarding clothing will ensure that the cold and wet snow will be kept out, allowing the wearer to remain dry and warm.
What to Wear to Keep Wet Out and Warmth In!
It's recommended that snowboarders and skiers wear a number of light, warm inner layers in order to keep them warm, as these can be removed at a later stage should they find they are too warm. As a rule it is better to be too warm on the slopes than too cold. It is also worth noting that weather conditions can change very quickly on the mountain and so it is vital to be prepared for any such eventuality.
Ski clothing sometimes comes as an all-in-one suit or as separate jacket and trousers (also known as salopettes). This very much comes down to personal preference. An all-in-one suit has no gap around the waist to allow the cold weather in, but it can also slightly more restrictive when it comes to visiting the bathroom! Also, buying separate jacket and trousers would allow the skier to buy the buy the articles one at a time later on should they wish to change only one of them. Snowboarders tend to wear separate jacket and trousers.
As a great deal of heat escapes through the head it is wise to ensure you have either a warm hat or protective helmet to wear both whilst skiing or snowboarding as well as if you are sitting outside at one of the mountain-side restaurants or bars. A spare warm hat is always recommended. Whilst scarves can be worn to keep you warm when you are not snowboarding or skiing, they can be potential dangerous when you are skiing or boarding, so it is better to wear a roll-neck jumper or fleece under the jacket for the purposes of safety.
What Should I wear on my Face?
Eyewear falls into two categories – sunglasses and goggles. Sunglasses are more suited for warmer sunnier days, whilst goggles provide more warmth and protection in colder weather. Whichever you go for, ensure that they have adequate UV protection as, even on non-sunny days, the eyes can be seriously damaged without UV protection, resulting in 'snow-blindness'.
Keeping Extremities Warm
Gloves or mittens are essential for protecting the hands from the cold weather and again, a warm waterproof pair is recommended. Many of them also have an inner lining that can be worn whilst the main glove has been removed, allowing your hands to remain warm whilst you use your hands for tasks that are more difficult whilst wearing thick gloves, such as fastening your other clothing or paying for food and drink.
Snowboarding and ski socks are made differently to regular socks in that they have no seam with which to rub against the boots, and also have more protected areas for warmth and comfort. Pressure on the foot and shins will be different between ski or snowboard boots, so ensure that you buy the correct socks depending on which activity your will be engaging in.
And Another Thing....
Whilst skiing or snowboarding the outer clothing can become very wet from either the weather or sitting or falling in the snow and, even though waterproof, may take some time to dry. Because of this it is a good idea to take a different coat to wear should you be going outside in the evening, as putting on a cold wet coat will not be very pleasant and will also magnify the effects of the cold weather.
You might also like...