Different Types of Snow Expedition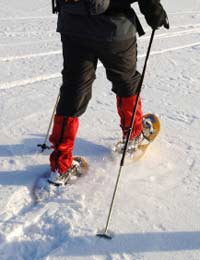 There are plenty of ways to get out and about in the winter weather, snow and ice, when you're enjoying a winter holiday. They don't all have to involve skiing or anything sporty, you can enjoy the scenery of snowy mountains and icy glaciers without having to so much as strap on a ski!
Have You Thought About Snowshoeing?
One type of fun expedition that will make you feel as if you're doing something a bit different, without the risk of falling over, is a snowshoe expedition. There are different levels of snowshoe walk – from a casual stroll down a planned route with a group of people, an overnight backpacking trip, or even an alpine climb for the more adventurous.
Walking in Snowshoes
If you're going to give a snowshoe expedition a try, you'll need two basic pieces of extra equipment, and these are the show shoes themselves and a couple of poles. Most people who have been snowshoeing say that it's really easy to get the hang of and that if you can walk, you can snowshoe too. This may be true, but it does still take a bit of getting used to, and you'll have to walk around in your new footwear for a bit (snowshoes just attach to normal walking boots) to get used to them before you set off.
You start off on your expedition by lifting the snowshoes slightly and sliding the overlapping inner edges over each other, rolling your feet slightly and taking what can only be described as an exaggerated stride.
Hiking and Walking Expeditions
Hiking and Walking expeditions are often organised by the resorts on winter holidays, and there are usually some really fabulous options open to winter travellers looking to see a bit more of the landscape, and take in the beauty of extreme winter weather.
It's going to be cold though, whether it's an organised expedition or not, so wrap up warm and remember to layer well – a wicking layer on the bottom to keep perspiration away from your body; the middle layer of a jumper to keep warm (polo necks are good for this, as they keep your neck warm too) and a top layer of a properly insulated winter jacket and trousers. You'll also need thick, strong boots – and some socks designed to keep heat in.
Take a warm hat and a pair of gloves with you to cover heat loss from extremities and avoid nasty problems like frostbite.Other than this, hiking and walking expeditions in winter need very little extra equipment, and an organised expedition can be a great way of exploring the snow and ice on a winter holiday.
Some resorts have beginner's snow walking expeditions which are probably less strenuous than hiking, ideal for beginners or the less fit. They will take you along routes where the snow and ice have already been cleared so that the risk of slipping and falling is even less than on a hike which might talk you through wilder landscapes and expose you to more extreme conditions...although a hiking expedition into difficult weather conditions can be well worth it for the sheer exhilaration and fabulous views.
You might also like...