How to Choose a Suitable Place to Ski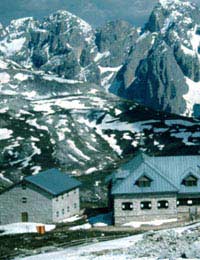 The popularity of skiing and winter sports breaks means that there are now more places in the world to ski than ever. The new resorts springing up in Eastern Europe and the popularity of South America and even New Zealand add variety and diversity to what had traditionally been a sport associated with North America, Canada and western European countries such as Austria and France. The sheer number of different resorts means that it can be hard to decide where you want to go.
Where Should I Start?
When do you want to go? If you're thinking of planning a ski trip early in the season, North America and Canada are the best destinations for good snow and winter sports .Traditionally it snows a lot earlier on the west coast of the USA, and slightly later in Europe. Of course, the ski season in New Zealand and south America starts just as the conditions in the northern hemisphere start to decline, so if you miss the traditional skiing season, there's always an alternative.
Mountain resort destinations like those in the Rockies will start to get the first snow by October, but you aren't likely to be able to ski their slopes until November at the earliest. Check the websites for the ski resorts you're interested in, and look at the historical snowfall records for the places you want to visit. Try websites like The Ski Club of Great Britain for weather reports and advice:
http://www.skiclub.co.uk
Look at the average snowfall of the resorts you're interested in and see whether it's consistent. If there's an average of around 300 plus inches per year, that's considered to be good snow and winter sports conditions.
What Do You Want to Do?
Are you only interested in a skiing holiday, or would you like to try snowboarding and other winter sports too? Many of the big, popular resorts offer a wide variety of activities, so check these out before you go. You could try contacting a specialist winter sports travel agent for advice on the best resorts for different activities.
It's also important to consider your level of experience. If you are an accomplished skier, you won't want to end up on a basic resort with very little variety, surrounded by beginners. If you're a newbie, you need to have access to easy, training slopes and a ski instructor, don't just jump in at the deep end and hope for the best.
Pay attention to the slopes, trails, and lifts on offer at a resort - .these should help you to decide whether the resort is going to be enough for you, and suit everyone in your party.
Where to Stay?
It's not just about what you do during the day – you need to know that the night time activities will be enough to keep you happy. Are you looking for somewhere family-oriented or something more trendy and upbeat? Is image important to you, or are you happy to go somewhere that's off the beaten track and not 'in'?
The more upmarket and popular resorts are likely to have more expensive accommodation, so bear that in mind! Although most resorts do have a range of options from self catering chalets to top budget catered villa style accommodation and hotels.
There are so many things to take into account when booking a ski trip that it's advisable to get expert advice if you're not sure.
You might also like...