Children and Skiing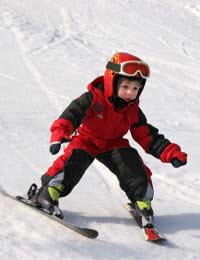 It sounds like a great idea taking the kids on a skiing holiday, doesn't it? Well, children all love snow, and you like winter sports, so what is there that could go wrong? It's not just a case of sticking them in ski school and finding them a beginner's slope, though.
When Should You Start Skiing?
It very much depends on your children! Some experts say that four or five years old is a good time to introduce children to skiing, but if they aren't ready for it you could early put them off for life. Seven year olds are generally more curious about it and have a better developed sense of balance so it might not be so frustrating for children of this age.
Find Out Where the Slopes Are
Before you book the skiing holiday and choose a resort, find out where the slopes are in relation to where you're staying. Children will get bored with carrying their equipment, and they often have problems walking on slippery surfaces too.
Choose the Right Childcare Options
If you have younger children that won't be skiing with you, you need to make sure that there's decent childcare for any younger children. Look for somewhere offering fun and games for the children, that's close to your accommodation, the lifts and even the ski school.
Alternatively, you could decide to spend some time on the slopes alone, and the rest with the children, so that they don't feel left out. Organise some skiing lessons for the children, and let them gradually adjust to the slopes. Be careful when you book childcare, as some tour operators have a clause saying that childcare is not guaranteed, and that it could be unavailable if there is a lack of demand.
Ski Lessons for Children
With older children who are keen to learn, it can be fun to enrol them for a few skiing lessons. A well organised ski school can be a fun way for the children to meet other kids and learn how to ski safely.
If possible, try to book English speaking classes through your tour operator, as these often have instructors hand-picked from the local ski school. Private tuition is another option but this can be quite expensive. The bonus is that the lessons will be tailored to suit your child or children, and will probably help them learn a lot faster.
Choose the Right Ski Gear
The same rules apply to children as to adults when it comes to ski wear – layers are vital!
Make sure you choose clothing your children can take off or put on by themselves when you aren't around, so that they aren't left getting uncomfortably hot or cold. Ski trousers and a jacket are often more practical than an all-in-one. Safety helmets compulsory for children under the age of eleven in Italy, Norway and Slovenia, and are a good idea anyway. Some recent studies have found that at least half of the head injuries inflicted on the slopes could have been avoided by wearing a helmet.
Children love to try new things and anything to do with snow is usually popular, so even if the children don't become top class ski experts on their first season, they will enjoy all the other activities that the resorts lay on.
You might also like...