How to Have Fun on Ice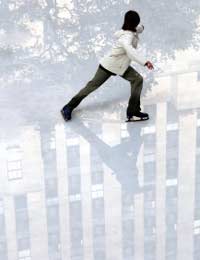 When you're on a winter break, the weather has come up trumps and the landscape is white and beautiful, thoughts turn to getting outside and making the most of the ice, snow and crisp winter weather while you can.
Fun and Games on Ice – What is There?
Ice skating looks such fun, and professionals at the sport make it look so easy! If you want to try skating while on your holiday, it's worth getting in some practice before you go at a local rink. You'll know the ice is safe and there are bound to be plenty more people in the same boat who have no experience on the ice and keep on falling over too!
The obvious activity for ice is skating, but there are other games and activities that are just as much fun. Try curling for example – an old Scottish game which involves throwing a large stone towards a target, and sweeping with brooms in front of it to stop it 'curling' off target.
There's obviously ice hockey, a really popular sport in North America and Canada, which is gaining in popularity in the UK due to more and more ice rinks opening. You'd need to be able to skate before you join a team, though!
Or you can have fun with the kids and make an ice train – a line of people line that snakes around the ice a bit like a conga! Grab hold of the hips of the person in front and hold on while the person in skates away and takes everyone else with them. This can be fun, but the potential for a complete collapse of the ice train is there.
Safety on the Ice
It may look like the perfect ice for skating on, but how can you tell that ice is safe to walk on, let alone skate? There's no easy way, but some tips from the Canadian Red Cross are:
Look at the colour of the ice before you set a foot onto it – it's safety and the strength of the ice can often be indicated by its colour.
The strongest ice is clear blue in its colour.
Snow on ice warms it up, and makes it weaker. So snow ice and opaque ice (which is formed by wet snow freezing onto ice) are half as strong as blue ice.
Avoid grey ice – it's not safe because the colour indicates the presence of water.
What is the Ideal Thickness for Ice?
If you are going to walk or ice skate on the ice on your own, it should be 15 cm thick at least.
If you are going to have more than one person on the ice, sports or parties, it should be at least 20cm thick.
If you're driving a snowmobile, the ice needs to be 25 cm thick.
If the Worst Happens
If you misjudge the ice and fall through it, the main thing is not to panic. The shock of the cold will hit you first, but try to concentrate on your breathing, and keep it from becoming too rapid due to cold shock.
Keep yourself afloat, and rest your arms out flat on the ice if you can. If there isn't already someone trying to heave you out of the hole you're in, keeping your arms out might help them freeze to the ice. That sounds painful but it will keep you upright and help you to keep your head above water.
You might also like...