Dressing for the Cold Weather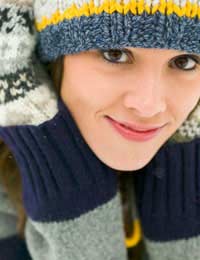 When you're on a winter sports holiday, or simply holidaying in a cold climate, you need to make sure you go prepared for the elements. If you're going to be out on the slopes, you need to wrap up well, and the best way of keeping out the bitter cold of the snow and wind is by learning to layer your clothes.
If you're taking part in any sports like boarding or skiing, you also need to think about keeping moisture away from your skin as you warm up.
The mountains are going to be cold and windy, but if you layer well and wear the right sports equipment you can keep the worst of the weather out, and then as you start to warm up you can always remove a layer
How to Use the Layering Principle in Cold Weather
The basic, bottom layer of winter clothing should be made of a wicking type fabric which is specially designed to keep your skin dry and stop you feeling clammy. Search specialist sports shops and look for clothes made from breathable materials that are designed to take any perspiration away from your body. You can often find suitable clothes in cycle shops as well as outdoor and camping retailers- it doesn't have to be a specialist ski wear shop.
Insulation - Over this basic layer you should go for something like a polo neck or turtleneck top, jumper or insulating shirt that's specially designed to keep you warm without adding too much extra weight if you are going out skiing or boarding. Of course, if you're just hiking in the snow, you don't need to worry about whether your jumper is too chunky.
Outer layer – this has to be windproof and weather resistant and the best thing to opt for is a waterproof jacket with a hood.A properly designed ski jacket will protect you from the wind, rain and any other inclement weather. The main decision to make on jacket design is whether you want to opt for an insulated jacket or a shell jacket.
An Insulated jacket will keep you well protected from the windy weather, snow, and rain, and also keep you warm and snuggle when out walking. Shell jackets aren't insulated so they will not keep you as warm as insulated jackets, but will still be appropriate for more active cold weather pursuits as you are less likely to overheat.
Ski trousers are also available in insulated or shell versions and these are absolutely essential for keeping you warm while out in the cold weather.
Some people also like to add fleece layer under their ski jacket. It's not absolutely necessary, and it could make you feel a little too warm on days when you're out on the slopes and exerting yourself. But if it's especially cold and the weather is very snowy, it might be an idea to wrap up warm in advance and add this extra layer.
What Other Cold Weather Accessories do I Need?
If you're simply walking or enjoying the cold, snowy weather outside, you can probably get away with mittens or gloves, a warm hat and a comfy scarf. You should also consider UV protective sunglasses to avoid the glare from the snow.
If you're skiing or boarding though, invest in some specialist ski accessories – goggles, and a properly made helmet to protect your head.With the right layers you'll enjoy your time in the cold – and manage to stay warm and comfortable during your winter break.
You might also like...