Health Considerations for Winter Sports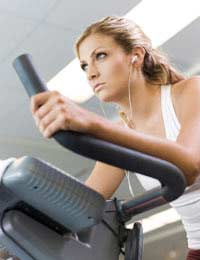 Winter sports are demanding and can be tough on your body if you are less than fit. It makes sense to try and improve your general levels of health and fitness when you book a winter sports break, because the fitter and healthier you are, the more you're likely to enjoy it! There are other things you also need to be aware of – how the altitude might affect you, if you have asthma, and whether you are pregnant.
Getting Fit and Healthy for a Winter Sports Break
Skiing and snowboarding, as well as other sports, can subject your body to repeated stresses and the sports involve a lot of physical exertion at high altitudes. The more fit and healthy you are, the more time you'll be able to spend on the slopes. It will also help you to avoid injuries like the muscle soreness and sprains that are often associated with skiing and snowboarding.
One very easy way to avoid muscle soreness is to warm up before you hit the slopes, and stretch before you start. A few more stretches after you've come off the piste will also help prevent that aching feeling the next morning.
Altitude Sickness – what is it and How Can it be Avoided?
While you exercise, your body's demand for oxygen starts to increase – and of course there's less oxygen at high altitudes. If you're generally healthy, you shouldn't find altitude too much of a problem, unless you're on the slopes for long periods of time, above 3000m (10,000 feet). These sorts of heights limit the amount of oxygen available, which can cause even a fit and healthy person to feel tired, weak or headachy. It's best to acclimatise yourself to this sort of height gradually, and wait a few days before venturing up to the highest points.
Pregnancy, Health and Winter Sports
There is no reason why pregnant women can't enjoy a winter sports holiday, as long as they are generally fit and healthy. It's wise to take into account the fact that some of the more vigorous sports will have on a foetus, and the potential for accident or injury affecting both the pregnant woman, and the unborn baby. But It's a matter of personal choice, fitness levels and of course the stage of pregnancy.
From the seventh month onward, it's likely to be physically uncomfortable for a pregnant woman to ski and could be potentially dangerous because of the possibility of bringing on a premature labour. The best time for a skiing holiday if you know that you're pregnant is after week 12 and before week 28. If you're pregnant, you'll be watching out for your health anyway, but when skiing try to avoid high speeds, very crowded pistes and high altitudes.
If you've ever had a miscarriage before, it's not advisable to ski or take part in any winter sports. It's also worth noting that pregnant women have a higher risk of leg vein thrombosis (DVT.)
Winter Sports and Asthma
There's absolutely no reason why a healthy person with asthma shouldn't take part in winter sports – indeed, being fit and healthy can help to reduce the symptoms. Having said that, it's well known that very cold weather can often make the symptoms of asthma worse, so if you're on a regular inhaler; make sure that you take it with you on holiday. You should also take your salbutomol (or other) occasional inhaler with you on the slopes, in case you feel an attack coming on.
Winter sports holidays are a great way to enjoy a holiday and keep fit at the same time, so don't let health considerations put you off...
You might also like...